Ever since the Centennial Train was discontinued (the Confederation Train of 1967), the National Museums of Canada had been interested in operating a National Museum Train. In 1975, a feasibility study was conducted to see if such a project was viable. The costs associated with building such a train were determined to be insurmountable.
That all changed in 1977.
On January 1, the American Freedom Train Foundation found itself with a bit of surplus: a 20+ car museum-style train that had just finished a 25,833 mile Bicentennial tour of the United States.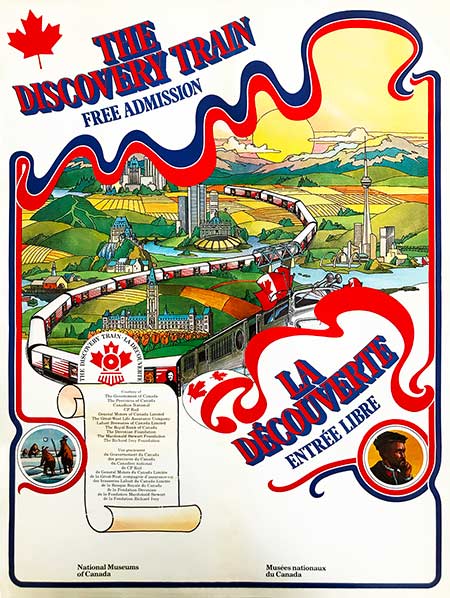 For the bargain price of $575,000US (for an asset that originally cost $5.3 million!), the National Museums of Canada was in business. The organization purchased fifteen of the cars -- an entrance car, two showcase cars, ten display cars with moving walkways, and two power cars. It was ideal for what they had in mind...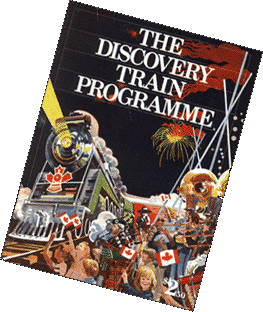 The showcase cars were converted into 'tunnel cars'. These were placed after the entrance car. Along with the entrance car, the interiors depicted the landscape of Canada from Atlantic to Pacific -- rocky coastline, woodlands, grasslands, prairie, mountains and shoreline including, at one point, a babbling brook under foot. The next ten cars contained a moving walkway to shuttle visitors through the train in some 20 minutes. The cars contained displays on prehistoric man, Indians and Inuit, New France, British North America, Immigrants, pioneering, boom and bust, WWII, present day Canada, and a big musical finale.
The Discovery Train (Train de la Découverte, its name in the French-speaking east) toured every province of Canada with rails, coming within 600 miles of the arctic circle at Churchill, Manitoba -- the "Polar Bear Capital of the World".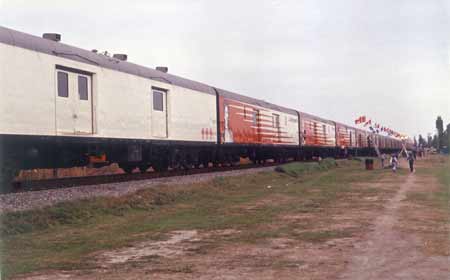 To make such a train a reality took the cooperation of many organizations. The Canadian National and Canadian Pacific railroads handled the train free of charge. The Royal Bank of Canada, Labatt Breweries, General Motors of Canada, and the Great-West Life Assurance Company each donated $400,000. Gifts totaling $684,500 also came from The Devonian Group, The Richard Ivey Foundation, and the MacDonald Stewart Foundation. There was also a $100,000 anonymous gift.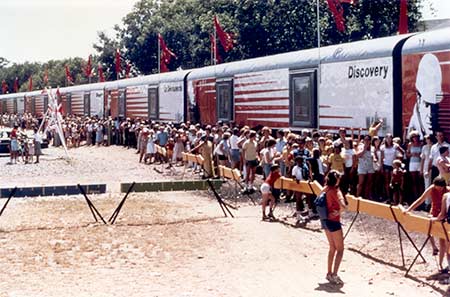 Hundreds of thousands of Canadians rediscovered their country as they toured the train on its three-year journey. It was a bold and memorable endeavor (endeavour).