Filmmakers:
Todd Schannuth - Director, Writer, Producer
Linda Hinojosa - Associate Producer
Ariel Linda Gonzalez - Production Assistant
Narrated by Linda Hinojosa
Photography:
Robert Skillman III
Bob Lorenz
David E. Pearson
John Petros
Ronald D. Goldfeder
Nelson H. Rath
Gerald J. Bosanek
David W. Seidel (Horseshoe Curve Chapter, NRHS)
Walter R. Grande
Keith Jackman
L. Andrew Jugle
Seeth L. (Corky) Thomson
Alan J. Holleuffer
Dr. Allen Jelks
Robert T. Clark
Mitchell Dakelman
Don Ball
Louis E. Nelson II
Mary Jayne and John Z. Rowe
Barry Howard
Armin W. Schannuth
Larry Wines
Doug Nance
William G. H. Barr (RRE, NRHS)
Henry Maltby (RRE, NRHS)
Music by: Davenport Productions
Accuen's
The American Freedom Train
The Year in Pictures 1976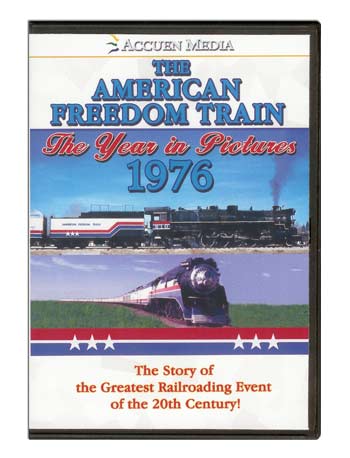 The producers wish to thank Ross E. Rowland, Jr. and Iron Horse Enterprises.
Made possible by the generous support of Mr. Barry Howard and Mary Jayne & John Z. Rowe.
PRODUCTION NOTES
From the Director:
The second of two volumes, The American Freedom Train: The Year in Pictures 1976 is, like the first volume, the culmination of three years' effort to reconstruct the journey of an incredible event over twenty years old. Research on this subject comes from two trips to the National Archives, countless newspaper and magazine accounts, but most importantly from interviews with over thirty of the AFT's staff, engine crews and designers.
This documentary owes its existence to the efforts of nearly two dozen photographers who either chased the train, or lived and worked on it.
Producer comments:
This DVD is digitally mastered. Over 500 photos were used in the making of this tape. Photography is all color.