The New York State Freedom Train began, more or less, with a display in the great rotunda of the New York State Library in Albany. The national Freedom Train was scheduled to visit Albany for just one day and Associate Librarian Edan L. Jacobsen decided to create a more enduring display of books and documents that would duplicate many of those on the national train, as well as telling the full story of New York State's contribution to the growth of freedom.
The Knickerbocker News of Albany ran a series of stories about the display and eventually editor Gerald H. Salisbury proposed putting the whole thing on wheels and sending it throughout the state. The New York Society of Newspaper Editors and the State Publishers Association got behind it. The state legislature formed a commission and Gov Dewey appointed Mr. Salisbury chairman. The member railroads of the Associated Railroads of New York State also got behind it.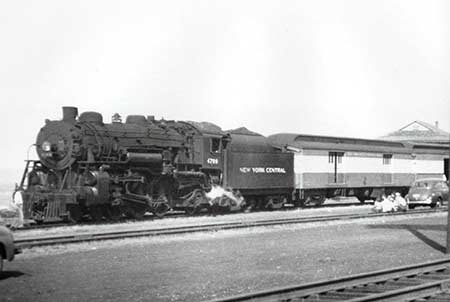 The New York Central Railroad took the lead among railroads, offering up five of the six cars and using their West Albany shops to refurbish the cars and turn three of the coaches into museum-quality display cars. The Pennsylvania Railroad contributed a baggage car, and several roads provided locomotives to pull the train over their lines.
The six cars were painted in the state colors -- royal blue with gold lettering and a wide gold band across the window area. Each car carried a bronze plaque of the state seal on either side, centered under the gold stripe. The display cars had their windows plated over with steel inside and out. A fire protection system and burglar alarm were added. Six soldiers from the NY National Guard traveled with the train, along with their commander Lt Col Frank B. Corry. Local Sheriff's deputies were stationed inside the cars while on display.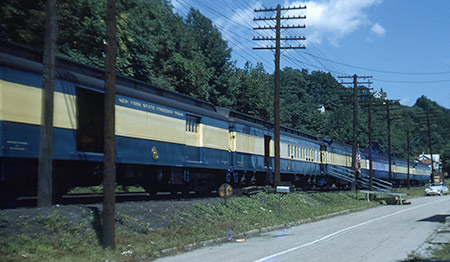 The documents were grouped by car, with the first housing documents related to Freedom of Expression. The second car featured Liberty Under Law, and the third Freedom of Self-Development.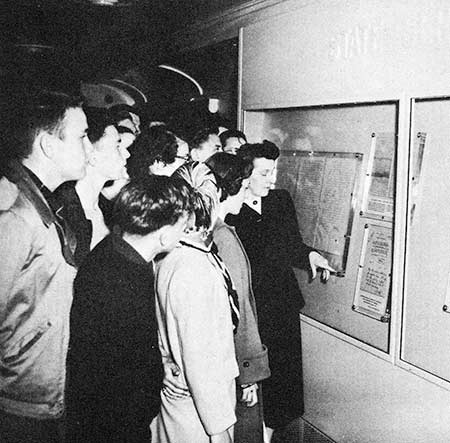 The 83 exhibits (a few consisting of more than one document) were each enclosed in shatter-proof glass and arranged in 12 large display cases on alternating sides of the train. The arrangement was such that large groups of adults and school children could move through the cars, stopping for lessons in front of each case.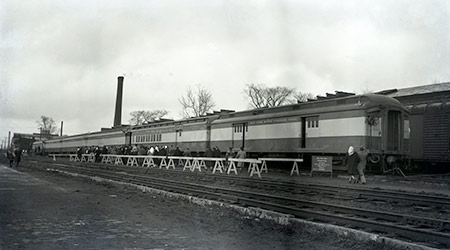 The slogan of the train was "Freedom is Truly New York and You". Communities throughout NY could pay a nominal $200 to sponsor a one-day visit by the train.
Governor Dewey inaugurated the train January 26, 1949 in Albany and it spent the next 13 months traveling throughout New York State, playing to capacity crowds all through the year. In the end, nearly one million people in 159 cities visited the New York State Freedom Train.